What is Klarna (invoice or hire purchase)?
What is Klarna (invoice or hire purchase)?

You stumbled upon the Klarna service while shopping online and would like to know what KLARNA is? No problem, we will explain it to you.
Klarna is a Swedish provider of financial services (also known as payment providers). When you shop with us online, you can use the KLARNA service to pay for your orders. You can choose between purchase on account and purchase in installments.

How exactly these payment methods work at Klarna and how you can use the service can be found in these subtitles.

This is Klarna

This is how Klarna invoice works

Installment payment via Klarna

What are the fees for Klarna?


This is Klarna

The financial services provider Klarna is based in Stockholm. He offers various payment methods for online purchases: Klarna invoice, Klarna financing (installment purchase) and pay immediately. Payment with Klarna is free of charge for you as a customer. It is now offered in many online shops. You can use the service provider's app to manage your payments and purchases. For example, you can use it to track your deliveries, take advantage of exclusive offers and create a wish list. Since the beginning of 2021 you can also open a current account with Klarna in the app.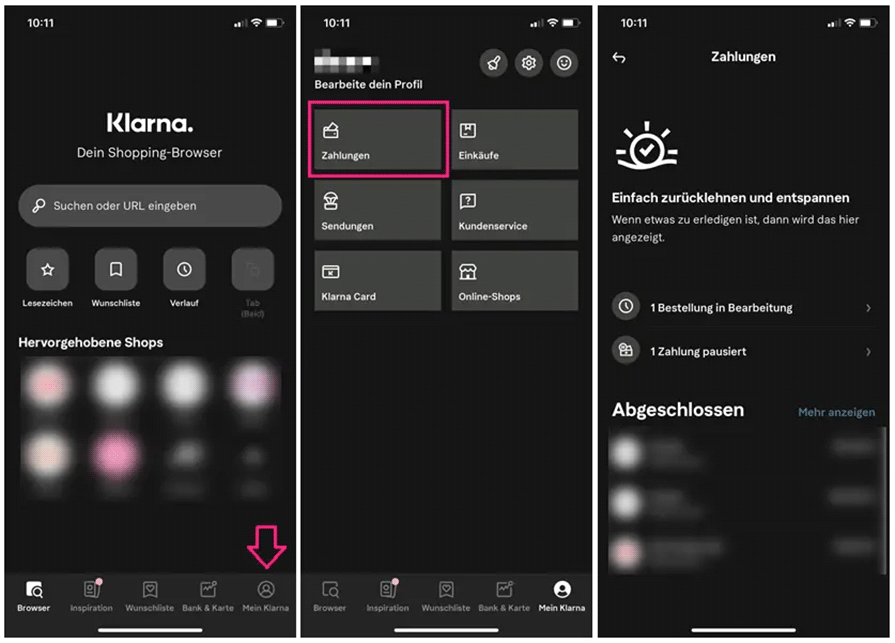 In the Klarna app you can manage all your Klarna payments and have an overview of your purchases and deliveries.

This is how Klarna invoice works

If you select Klarna invoice for payment, the following happens: Klarna transfers the amount directly to the retailer, you now have 14 days to transfer the money to Klarna and pay the invoice in this way. So you can wait for the goods to arrive and check them before paying. You can extend the billing period for a fee. If you are not satisfied with the goods, you can "report a problem" in the Klarna app or report a return and thus pause your payment to Klarna.

Installment payments can bring you many advantages, but also some disadvantages. We have listed them for you here:

Advantages:
Money does not have to be transferred until the goods have been received
Goods can be checked before paying
No going back and forth on returns
Many online shops now offer payment with Klarna

Disadvantage:
There are additional fees
High dunning fees, if
Payment deadline is exceeded
Personal credit limit is not visible

Installment payment via Klarna

Even if you choose Klarna installment payment when shopping online, Klarna first pays the purchase price shown for you. You can then pay off your payment to Klarna in installments - stretched over a period of up to 24 months. The installments can be fixed or flexible, and you can always decide to pay the full balance at once.